Sci-Fi titles are actually a bit more far-reaching than many think. Mainly because it's a low bar to cross when you think about it. Regardless, video game developers love to make titles of this type, and 2023 will be packed with them.
#66 Pikmin 4
Platform: Switch
Release Date: July 21, 2023
It's sometimes easy to forget that the worlds that Captain Olimar and the rest of the Rescue Corps go to can be counted as "sci-fi planets," and yet, it's true! In Pikmin 4, you'll head to an equally sci-fi planet and attempt to rescue Olimar and the others from the predicaments they've found themselves in.
But the sci-fi elements go beyond the basics of collecting Pikmin and battling aliens! This time, you'll have a dog-like alien named Oatchi to help you around.
Furthermore, underground sections will push the gameplay and setting to new depths. Plus, there are night-time missions where you'll use ghost-like Pikmin to fight rage-filled beasts!
So yeah, a classic sci-fi adventure.
#65 Metroid Prime Remastered
Platform: Switch
Release Date: February 08, 2023
Many games deserve the "remastered" treatment for one reason or another. But when it comes to Metroid Prime Remastered, it's another story. This title was hailed as one of the best games of its generation when it came out on the Nintendo GameCube and the trilogy that it was a part of brought Samus Aran back into the limelight.
But now, with this remastered version of the game, you'll get to see it at its peak on the Nintendo Switch and witness why this game still holds up to this day.
From the first-person combat to the exploration and story, you'll feel everything Samus Aran does and fight to keep her alive.
#64 Hi-Fi Rush
Platform: PC XSX|S
Release Date: January 25, 2023
Does a game get any more sci-fi than a kid having his heart fused with a music player and it now being the source of his combat style? If it isn't, we need to seriously rewrite the rulebook.
Anyway, in Hi-Fi Rush, you'll be thrown into a dystopian future where corporations are more than willing to toss out people they screwed up, including you. But you're not alone in your fight to take them down. Find unique allies and use their abilities alongside your own to climb the "corporate ladder" and get the payback you deserve!
Plus, with the unique combat system, you'll have a blast fighting foes.
#63 The Talos Principle 2
Platform: PC PS5 XSX|S
Release Date: December 2023
If you loved the first game in this series with its thought-provoking puzzles and unique narrative, then you'll love The Talos Principle 2.
The game will put you in a different world than before, where humanity is gone, but its "remnants" remain and are looked after by robots.
One structure, in particular, is the focus of everything, and as you work to unlock its powers, you'll learn more about the world, universe, and the role of everyone in it.
While it is a puzzle game, you don't need to solve every puzzle to complete the story. But if you do, you'll be a true master of puzzle-solving!
#62 Ripout
Developers: Pet Project Games
Publisher: 3D Realms
Platform: PC PS5 XSX|S
Release date: 2023
Are you ready for a co-op horror experience that's unlike any other? Then get ready for Ripout.
Humanity is on its last legs in the game after an experiment has gone wrong. They tried to make a weapon to fight off an alien invasion but got owned by their creation. Fast forward to 2084, and you are humanity's last chance of getting their world back.
You'll wander through various ships and try to weed out enemies using a sentient "pet gun" that you wield. The gun has many uses, so choose wisely as you work through procedurally-generated levels that'll keep you on your toes!
#61 Luna Abyss
Developer: Bonsai Collective
Publisher: Bonsai Collective
Platforms: PC PS5 XSX|S
Release: July 2023
What do you think is the worst prison sentence you can possibly get? In Luna Abyss, you'll discover how bad it can be when you're convicted of a crime and sentenced to a moon but not just any moon, a "mimic moon" full of technology from an ancient race.
Your goal is to collect as much technology as possible without getting killed, all the while being watched by your AI Warden.
But don't think there aren't entities within this moon that won't hurt you if given a chance. The remnant of the civilization within this moon still lives, and the deeper you go, the more your fate will be revealed!
#60 The First Descendant
Developer: Nexon
Publisher: Nexon
Platforms: PC PS4 Xbox One PS5 XSX|S
Release: August 2023
A futuristic shooter will be arriving in 2023, and it's called The First Descendant. The game features you and others as beings known as "Descendants," and it's up to you to save your continent from an invasion.
You'll accept missions and head out to stop the invaders. As you progress, you'll get stronger and learn more about who the Descendants are and what is the source of their power. Each Descendant is different, wields different weapons, has unique abilities, etc. Choose the best option for you and see if you can save humanity.
Powered by Unreal Engine 5, this may be one of the most beautiful games you will ever see.
#59 Fort Solis
Developer: Fallen Leaf / Black Drakkar Games
Publisher: Plug in Digital / Dear Villagers / Playdius
Platforms: PC
Release: August 2023
When you're on Mars, the only people that can help you are those who are with you on the planet. In Fort Solis, you play Jack, an astronaut who receives a distress call from the titular base. But when he arrives there, something is wrong. The crew is nowhere to be found, and the base isn't fully operational.
Trapped in the base due to a storm outside, Jack must wander through the base and figure out what happened. When the truth reveals itself, Jack must do all he can to survive until the morning to escape!
Can you survive long enough to make it out?
#58 Leshy
Developer: Glivigames
Publisher: RockGame
Platforms: PC
Release: 2023
In our world, the forests that provide us with life are in constant danger. Perhaps things would be better if we had a guardian to protect them. In Leshy, you'll get the chance to be that guardian. You'll be a forest protector based on Slavic Mythology, and you're tired of the humans going around and chopping down the trees!
Use your power, and connection to the forest, to take out the humans and their machines. Look for weak points, overwhelm them, and show them that the green is not to be trifled with.
But as you continue your quest, you'll learn more about the guardian and other characters they interact with.
#57 Miasma Chronicles
Developer: The Bearded Ladies
Publisher: 505 Games
Platforms: PC PS5 XSX|S
Release: 2023
Miasma Chronicles comes from the developers that brought out Mutant Year Zero: Road to Eden. Players can get ready for another tactical adventure game at some point this year. From what we know so far, this game is set in the future, where America was demolished by force, only known as the Miasma. Players are taking the role of a young man named Elvis, who wields a mysterious glove that gives him control of the Miasma. With this power, players will embark on a journey across the country in search of answers and potentially change humanity's current course.
#56 Warhammer 40,000: Boltgun
Developer: Auroch Digital
Publisher: Focus Entertainment / Focus Home Interactive
Platforms: PC PS4 XBOX ONE PS5 XSX|S SWITCH
Release: 2023
Fans of the Warhammer 40,000 franchise may want to check out one of the new upcoming installments slated for 2023. Warhammer 40,000: Boltgun is a retro 90's inspired FPS that resembles Doom and Quake. Players are tossed into the game as a hardened Space Marine who is continuing the mission of battling against the swarms of daemons of chaos. Run, jump, and blast away the enemies scattered across the levels. If you enjoy those classic retro shooters, this game will hopefully scratch that nostalgia itch.
#55 Level Zero
Developer: DogHowl Games
Publisher: tinyBuild Games
Platforms: PC PS4 XBOX ONE PS5 XSX|S
Release: 2023
Level Zero is a survival horror PVP game. In this title, players are stepping into the future, where humanity has reached the far corners of the universe. Landing on a planet, the scientists tasked with exploring the area soon discover it's filled with hostile alien creatures. The game is broken up into two teams. Four scientists will be tasked with completing a series of objectives to escape the area. Meanwhile, two players will be alien creatures that must hunt down and kill the scientists. With light being your primary defense against alien creatures, players must rely on different light sources to ensure the area is safe to venture around the map.
#54 Armored Core VI: Fires of Rubicon
Developer: FromSoftware
Publisher: Bandai Namco Entertainment
Platforms: PC PS4 XBOX ONE PS5 XSX|S
Release: 2023
The Game Awards 2022 came with the surprise reveal that FromSoftware was returning to the Armored Core franchise. Armored Core VI: Fires of Rubicon is slated to launch in 2023, and with it comes a new mech fighting game. Players are working to secure a precious resource on the planet Rubicon 3, but challenges are ahead. First, the planet and its entire system are engulfed in flames, making it already quite a work hazard. Furthermore, with several corporations seeking this resource, you'll have to battle against other mech groups seeking to claim territory on the planet. While you don't have to go back and play past Armored Core games to enjoy this title, newcomers may initially find the robust customization options for mech building to be a bit overwhelming.
#53 Risk of Rain Returns
Developer: Hopoo Games
Publisher: Gearbox Publishing
Platforms: PC Switch
Release: 2023
Risk of Rain and Risk of Rain 2 were both incredibly popular games. Now the studio is looking back at the franchise and giving it a proper remake. Those who enjoyed the original game will find the Risk of Rain Returns installment worth checking out. It's built from the ground up with enhancements in visuals, new content, and even a revamped multiplayer component. This action roguelike installment will have new survivors, content featured from Risk of Rain 2, and brand new ways to play the game.
#52 Forever Skies
Developer: Far From Home S.A.
Publisher: Far From Home S.A.
Platforms: PC PS4 PS5
Release: 2023
Forever Skies is a survival game set to hit early access. This game is set well after an apocalyptic event forced humanity to flee Earth. Players here take the role of a protagonist seeking to find a way back to Earth. A new mysterious illness has emerged, and a cure could be found back on the surface. Armed with your scientific knowledge, you'll take an airship and explore the world and the ruins left behind. Upgrade your airship and craft up a base that will keep you safe from ecological disasters and a lab that can aid your efforts in uncovering a cure.
#51 Hyper Light Breaker
Developer: Heart Machine
Publisher: Gearbox Publishing
Platforms: PC
Release: May 2023
Fans of the Hyper Light Drifter will find a new game set within the same universe. However, Hyper Light Breaker is different because this is a 3D-action RPG. So far, we know that players will explore a new land within the Hyper Light universe. However, you'll soon find yourself fighting against a mysterious king. With developers promising hordes of enemies to battle and gigantic bosses, this should make for a fluid action RPG and an intense one. Fortunately, you won't have to scavenge the world to a new arsenal of weapons to defeat your foes alone. Instead, this game will provide online cooperative support so you and a friend can go through this epic journey together.
#50 Mato Anomalies
Developer: Arrowiz
Publisher: Prime Matter
Platforms: PC PS4 XBOX ONE PS5 XSX|S SWITCH
Release: March 10, 2023
Mato Anomalies is an upcoming JRPG that follows two unlikely companions. Set in a futuristic city called Mato, our heroes are forced to investigate strange anomalies that have popped up across Mato. Meanwhile, you'll find yourself going through various rifts to battle against demonic beasts that have set their eyes on the city's utter destruction. Players will need to close the rifts and uncover the sinister secrets of Mato.
#49 Star Wars: Tales from the Galaxy's Edge Enhanced Edition
Developer: ILMxLAB
Publisher: Disney Interactive Studios
Platforms: PS5
Release: February 22, 2023
Star Wars: Tales from the Galaxy's Edge is not necessarily a new game. This title launched for the Oculus Rift previously, but this year Star Wars fans were treated with an enhanced edition of the game made for Sony's latest virtual reality headset, the PlayStation VR2. If you're unfamiliar with this game, the narrative is set after the events of Star Wars Episode VIII: The Last Jedi, where players are on the run from the Guavian Death Gang. Laying low on Batuu, our protagonist meets a barkeep named Seezelslak. Here we'll get some different stories from the barkeep, which tosses players into the roles of each hero as you play out these shorter campaign snippets.
#48 Aliens: Dark Descent
Developer: Tindalos Interactive
Publisher: Focus Entertainment / Focus Home Interactive
Release date: 2023
Platform: PC PS4 PS5 Xbox One XSX|S
Aliens: Dark Descent puts you in the role of leader as you command a group of Colonial Marines on a mission of utmost importance. On the moon known as Lethe, there has been an outbreak of Xenomorphs, the most feared creatures in the galaxy.
It's your job to go to the moon and wipe out the Xenomorphs before they can cause more harm to the galaxy!
But be warned, the Xenomorphs in their various forms aren't the only dangers you face. A corrupt corporation is there, too; you'll have to fight them off when they show up. So choose your team wisely and use the environment to ensure your success in each mission!
#47 Routine
Developer: Lunar Software
Publisher: Raw Fury Games
Release date: 2023
Platform: PC Xbox One XSX|S
Welcome to the moon. It's supposed to be a nice place to live. They even built a base here themed on what the 80s thought the future would be like. But it's not fun and games once you enter the base. The people who ran the place are gone, and yet you're not alone in the complex.
There's something else in there, and it thinks you're a threat to it. Unfortunately for you, the game isn't a shooter, so you'll need to run and hide from the dangers that lurk around every corner and only fight when you have no other choice.
What happened in this base? What is chasing you? Play the game and find out!
#46 Quantum Error
Developer: TeamKill Media
Publisher: TeamKill Media
Release date: 2023
Platform: PS4 PS5 XSX|S
Are you ready for a horror story that will test your skills and sanity?
Quantum Error starts out as a simple rescue title. A research facility off the coast of California has come under distress. The place is on fire, and people are trapped inside. You are Captain Jacob Thomas, who leads a crew to the facility to try and get them out before the place collapses.
But once you arrive, everything changes. The cause of the incident isn't what you think, and now you're trying to survive the darkness that awaits you. So be ready to fight for your life because it's absolutely on the line.
#45 Stargate: Timekeepers
Developer: CreativeForge Games
Publisher: Matrix Games/Slitherine
Release date: 2023
Platform: PC
If you're a fan of the TV series, then Stargate: Timekeepers is a must-have for you. The game takes place after Season 7 of the show and delivers an original tale with familiar faces and new foes.
The story follows you across 14 missions as you attempt to get out of a time loop! But it's not all bad. You'll be able to redo things in the time loop to change the outcomes of missions you did, and affect the game's ending!
You'll have to lead your group into combat against many different foes, including new ones created for the game! Will you be able to save the universe and history itself?
#44 Terminator: Dark Fate – Defiance
Developer: Cats Who Play / Matrix Games/Slitherine
Publisher: Matrix Games/Slitherine
Platform: Microsoft Windows
Release date: 2023
The Terminator universe has spawned many things over the years, but Terminator: Dark Fate – Defiance might be one of the more intriguing video games from the series.
In the title, you play as a resistance commander who is trying to fight back against the Legion. The Legion is bent on wiping out humanity, but you can't let that happen! As humanity is on its back foot, you won't be able to mindlessly churn out things to fight Terminators and other machines. You must be mindful of what you do at all times. If you make a mistake, the machines will make you pay.
#43 Cyberpunk 2077: Phantom Liberty
Developer: CD Projekt RED
Publisher: CD Projekt RED
Platform: Microsoft Windows, PlayStation 5, Xbox Series X/S
Release date: 2023
Cyberpunk 2077: Phantom Liberty is the first and only story DLC coming to the main game. Considering the long road we're taking to get this DLC, we should be a little grateful we got it.
Anyway, the DLC doesn't have much attached to it in terms of information, but we do know it's a "spy-thriller story."
What's more, we're going to go to a "previously unexplored area" of the title. So at the least, you'll get new places to enjoy. We also know that your character will recite an oath to the USA, something that Johnny Silverhand says isn't going to end well for them.
#42 Stormgate
Developer: Frost Giant Studios
Publisher: Frost Giant Studios
Platform: Microsoft Windows
Release date: 2023
Announced in 2022, coming to early access in 2023, and from a team littered with ex-Blizzard talent, Stormgate is promising to be the RTS that Blizzard has seemingly been unwilling to give players in recent years. A free-to-play model opens up the doors to potential millions of players, and they'll all be keen to see if the sci-fi story of Stormgate, set hundreds of years in the future, delivers the goods in mid-2023
#41 Nine Sols
Release date: June 2023
Developer: Red Candle Games
Publisher: Red Candle Games
Platforms: Nintendo Switch, PlayStation 4, Microsoft Windows, macOS, Macintosh operating systems
Things are often not as they appear, case and point Nine Sols – a dark and intriguing game with a beautiful visual style that hides its sinister overtones. A tight and fast platformer. Building on advances made by some of the best platformers in the industry: the gameplay is smooth and fluid and linking several devastating attacks together is silky. Additionally, this game pairs a dark and somber story with a sincere soundtrack that's thought invoking, to say the least. There's a demo available on steam that may tide you over till its release, or make you more desperate for further updates.
#40 Star Wars: Eclipse
Release date: TBA
Developer: Quantic Dream
Platform: TBA
Publishers: Lucasarts
Quantic Dream have long been known for their in-depth narrative adventures, and so the prospect of bringing that skillset to the new Star Wars High Republic is mighty enticing. The world looks incredibly impressive, and while we know little more than the setting at this point, the combination of the world and the talent should leave us all more than excited enough for whenever it drops.
#39 Stranded Alien Dawn
Release date: October 2022 Early Access, Full Launch TBA
Developer: Haemimont Games
Publisher: Frontier Developments plc
Platform: Microsoft Windows
Could you lead a team to survive on a world that isn't your own? Stranded Alien Dawn will test that question for you. You will play as the leader of a small group of people who have been marooned on an alien planet. Now, in order to survive, you must forge, craft, defend, and manage with your fellow survivors on all major things.
You'll have to build a shelter to get through the nights and defend against some of the creatures that might see you as a threat. You'll have to look after the physical and mental health of your crew to make sure they're all doing alright.
Learn the ways of the planet, learn more about your people, but above all else, make sure you all survive.
#38 Scars Above
Release date: TBA
Developer: Mad Head Games
Platform: Microsoft Windows
Publishers: Prime Matter, Plaion
When Dr. Kate Ward and her team were sent to observe an alien artifact that was suddenly above the Earth, they could never have known what was going to happen next. No sooner do they arrive on the craft than they were beamed elsewhere into space.
When Kate awakens, she has no idea where she is, what happened, or where the rest of her crew is. Now, it's up to you to guide her so you can find out the truth!
While you aren't a fighter, you are very intelligent, use that to find items that can help you on your journey, as well as research the planet you're on to learn more about it. You need to survive to find the rest of your team But will you be able to do it?
#37 Atlas Fallen
Developer: Deck13 Interactive
Publisher: Focus Entertainment
Platforms: PC
Release: 2023
The world of Atlas Fallen is corrupted, but ironically, not by man. It's the gods above that have ruined the land, and now it's your job to help bring humanity back from the brink so that it can stand on its own two feet again.
The sands of your world are one of your greatest assets, use it to make new abilities and strengthen yourself against the foes to come. Including legendary monsters that you'll have to hunt using very powerful weapons!
As you fell foes you'll get to take their essence to grow stronger. Be the warrior that YOU want to be in order to defeat all that stands before you.
#36 Dune Awakening
Developer: Funcom
Publisher: Funcom
Platforms: PC
Release date: TBA
The Dune universe is widely considered one of the best set of sci-fi stories out there. With its new movie out now, more people than ever are wanting to dive into it, and games like Dune Awakening are going to help with that.
Dune Awakening is an MMO set on the desert planet of Arrakis, just like in the original books and movies. You'll create your character from one of the many races that are within the lore, and then set out to create your own story and legend.
You can do what you want in the game. You can fight, you can explore, you can expand, you can gain power, it's all about you and your own story. How will you etch your name into history?
#35 Moonbreaker
Release date: September 29, 2022 Early Access, Full Launch TBA
Developer: Unknown Worlds Entertainment
Publisher: KRAFTON
Platforms: Microsoft Windows, Macintosh operating systems
Made by the team from Subnautica, and by a world builder of legendary novels fame, Moonbreaker is a turn-based tabletop tactics game set in a very big universe that you'll be both enjoying and battling in a lot.
The game is meant to have a variety of modes and options for you, including how you makeup the crew that you take into battle, the strategies you can use to overcome opponents and more. Speaking of opponents, you'll be able to fight against others online, or, test yourself against the AI in the offline mode.
Oh, and if you're wanting to REALLY go all out, you'll be able to paint your units to make them have a style suitable for you.
#34 Synduality
Developer: Game Studio
Publisher: Bandi Namco
Platforms: PlayStation 5, Xbox Series X/S, PC
Release date: 2023
What would a new year be without a post-apocalyptic title? Synduality is a mech game where you will play as a pilot who is dealing with quite a bit just to survive.
The world of Amasia is not exactly the best around, including having rain that is literally toxic for you to touch. So moving around to try and find supplies isn't the best.
Plus, you have an AI partner that is definitely more than it's letting on, and thus is something to watch out for.
Obviously you'll be in for some epic mech on mech action, and you can even upgrade your mech over time to ensure you survive the battles to come.
#33 Homeworld 3
Release date: 2023
Developer: Blackbird Interactive
Platform: Microsoft Windows
Publishers: Gearbox Software, Gearbox Publishing
In what feels like an homage to the famous novel Dune by Frank Herbert. Homeworld 3 is a glorious space-based tactical game arriving in the first half of 2023. In keeping with previous entries into the franchise, the trailers show off vastly detailed battle environments filled with an array of routes to take advantage of. Command your troops in an all-out offensive against any would-be raiders. This is the stomping grounds of tacticians, so you'll have to plan your movements carefully, being ever mindful of the terrain and the various environmental hazards it holds.
#32 Hyenas
Release date: 2023
Developer: Creative Assembly
Platforms: PlayStation 4, Xbox One, Microsoft Windows, Xbox Series X/S, PlayStation 5
Publishers: Sega, SEGA of America
We saw recently leaked Hyenas footage and it's really looking the part. Creative Assembly, the developers responsible for both Total War, and Alien Isolation have been hard at work creating this visually stimulating world ripe for blasting through. Closed Alpha tests are ongoing, but with four years of development already under the game's belt, things are looking good for the game's future.
#31 Unknown 9: Awakening
Release date: TBA
Publisher: Reflector Entertainment Limited
Developers: Reflector Entertainment, Reflector Entertainment Limited
Platforms: Microsoft Windows, Xbox Series X and Series S, PlayStation 5
It's not often that a game breaks the mold of what it is to be a game. Unknown 9: Awakening is an enigmatic entry into the gaming world that seeks to break down the boundaries of the medium. From comic books to podcasts, the game will be part of a larger ecosystem built on multiple forms of content. This intricate architecture hints at a unique detective experience in which the players unearth secrets and mysteries. Little beyond the above and a somewhat cryptic introduction video is known about Unknown 9: Awakening. No gameplay videos have been unveiled yet. Despite the lack of information on Unknown 9 the game is sure to set itself apart.
#30 Plan 8
Developer: Pearl Abyss
Publisher: Pearl Abyss
Release date: TBA
Platforms: PlayStation 4, Xbox One, Microsoft Windows
The team behind MMO favourites like Black Desert Online are suiting up to get another MMO out into the world – this time an MMO Shooter in the form of of Plan 8. While it has now been quite a while since we've learned any more about Plan 8, the promise of humans wearing exosuits, and a variety of upgradable abilities has us holding onto hope that we'll get more information soon.
#29 Destiny 2 Lightfall
Developer: Bungie
Publisher: Bungie
Platforms: PlayStation 5, Xbox Series X/S, PC, Xbox One, PlayStation 4
Release date: February 28, 2023
Destiny 2 has had some major expansions and DLC since its launch, but Destiny 2 Lightfall is aiming to be one of the best and most important of the bunch.
Furthermore, this is the DLC that will start the war that'll apparently help end the game eventually. You'll head to the Cyberpunk city on Neptune and have to clash forces with The Witness and his new Disciple. That doesn't sound too bad, right?
You will also be able to use new abilities via the Darkness, as Strand will allow you to warp the minds of enemies to your will. Clearly there's a lot going on in this game, that'll make it all the more important that you play it when it comes out.
#28 Atomic Heart
Developer: Mundfish
Publisher: Mundfish
Platforms: PC, PS4, PS5, XBO, X/S
Release: 2023
Atomic Heart is an action RPG that will be taking place between the 1930s and 1960s. Set in the still established Soviet Union, the world has become incredibly advanced in ways never thought possible. Players are stepping into the role of a mentally-unstable KGB special agent that goes by the name P-3, where you're tasked with seeking out a manufacturing facility that's gone silent. We know that this game throws in a mixture of melee and gunplay while also focusing on upgrading your weapons or gear via a crafting system.
#27 Ark II
Release date: 2023
Publisher: Studio Wildcard
Developers: Studio Wildcard, Grove Street Games
Platforms: Xbox Series X and Series S, Microsoft Windows
Ark II is follow-up to one of the most popular games of all time, and when you're looking to up the ante further, there's no more obvious way to raise the bar than to add Vin Diesel into the mix… right? The game is planning to go into early access on PC and Xbox Series X|S in 2023 and is promising big changes and improvements. Set after the fifth piece of story DLC for the original, there's a bit to catch-up on prospective players, so you better get dino hunting.
#26 ALARA Prime
Publisher: Level Infinite
Platform: Microsoft Windows
Developers: Fall Damage, Fall Damage AB
Release date: 2023
Swedish game developer Fall Damage Studios has unveiled ALARA Prime, an online free-to-play first-person shooter. Other games emphasize fast-paced, reflex-based combat. However, ALARA sets its sights on a tactics-based environment. Similar to Valorant, ALARA places an emphasis on teamwork and team-based maneuvers in a 4x4x4 capture-the-base style scenario. This is all brought to us by four industry veterans originally responsible for founding the game development house DICE. This means that fans will be graced with a game that is both visually stunning and incredibly polished. ALARA Prime was in Alpha testing in July and will be released sometime in 2023, so keep an eye out.
#25 ARC Raiders
Developer: Embark Studios
Publisher: Embark Studios
Platforms: Microsoft Windows, Xbox Series X and Series S, PlayStation 5
Release date: 2023
When you have the force of ex-Battlefield developer Patrick Söderland behind a game that should bode well for it's future prospects. As a free-to-play third person shooter, you're pit against robotic AI who fall from space at unrelenting frequency. Gear up and shoot them all down in this fast-paced squad-based shooter coming in 2023 to all new consoles and PC.
#24 The Expanse: A Telltale Series
Release date: TBA
Publisher: Telltale Games
Platforms: PlayStation 4, Xbox One, Microsoft Windows
Developers: Deck Nine, Telltale Games
Camina Drummer is a ruthless, hardcore, space cowgirl, who occupies the Expanse as a scavenger. This dark and haunting story sees Drummer fill many roles, bearing the mantles of: captain, ruthless killer, fierce fighter and total badass. This is a game that is made up of massive engaging world with an intricate story and immense interactive environment. Chilling eerie and sinister secrets wait to be unearthed. But is that your role? Or are you only there to scavenge what you can and profiteer off of the misfortune of others. We'll find out in the Summer of 2023.
#23 Marauders
Release date: TBA
Developer: Small Impact Games
Publisher: Team17
Platform: Microsoft Windows
Marauders is a first-person looter shooter based in space and rendered in an epic world war 2 style. Gameplay environments look to be a combination of old war submarines and modern space stations. Set in a Diesel Punk alternative reality. The great war never ceased and instead continued well into the 1990s. Players will be tasked with dashing across environments, eliminating foes and looting supplies to help them survive the apocalyptic age in which they find themselves. Gear is upgradeable on the fly with materials gathered on raids. Marauders is a fast-paced action shooter that will push players to the max and calls for high levels of focus if you wish to survive and thrive.
#22 Synced: Off Planet
Release date: TBA
Publisher: Level Infinite
Platform: Microsoft Windows
Developers: NExT Studios, Studio Gobo Limited
Synced: Off Planet is the next hot tactical First Person Shooter. Games of this ilk seldom offer something new to the genre and they can feel a the same, however this is not the case with Synced: Off Planet. This game incorporates an opportunistic loot-and-shoot style that sees players compete across a map for precious Nerva. This will push players to plan their attacks and choose how and where they'd like to proceed. What's more, players can synchronize with Nanos, an in-game sidekick that can take one of a variety of forms. This gives players the option to tailor their team to best suit their play style. Syncing with either the crusher, suppressor, guardian or seer can provide you with a number of unique benefits. Additionally, you can upgrade both your Nano and yourself to better increase your chances of success and survival.
#21 Warhammer 40000: Rogue Trader
Developer: Owlcat Games
Publisher: Owlcat Games
Release date: 2023
Platforms: PlayStation 4, Xbox One, Microsoft Windows
Explore an array of different worlds in a large conquest for the ages. Conquests require resourcefulness so ensure that you seek out allies of the Imperium and be ever weary of potential enemies lurking in the shadows. From voyaging humans to Alien Xenos and Chaos cults, this game promises a varied treacherous and deadly experience. Make your decisions wisely as they may play out across entire worlds. Use strategic and tactial knowledged in this intense turn based battle against those who would see a Rouge Trader fall. Fortunately you never have to go it alone, as sophisticated and faithful companions await you on you journey across this vast unknown.
#20 Warhammer 40000: Space Marines II
Developer: Saber Interactive
Publisher: Focus Entertainment
Platforms: PC, PS5, Xbox Series X/S
Release date: TBA
Marines are in a class all of the own, this is true in life as it is in games. Marines are a brand of soldiers that fight more savagely, kill more eagerly, move more quickly and die less easily. The same is true of Space Marines, as you will discover in this new entry into the Warhammer 40000 catalog. Warhammer 40000 games don't disappoint. If your looking for an all out space war, look no further. This game is one that will see you turn the tides of battle and issues swift bloody deaths to any beast that might stand in your way.
#19 Overwatch 2
Developer: Blizzard Entertainment
Publisher: Blizzard Entertainment
Platforms: PlayStation 4, PlayStation 5, Xbox One, Xbox Series X/S, Nintendo Switch, Microsoft Windows
Release date: October 4, 2022 (Early Access) Expected Full Launch 2023
It's not hard to see why Overwatch 2 is a sci-fi title, it's set in an alternate version of the world where various things have happened that led to major advancements in technology for better and for worse. Not to mention, there are characters here that aren't exactly human…looking at you, Winston.
Regardless, Overwatch 2 is going to be a title that is constantly updated throughout 2023 much like how the original game was. It's hard to predict how Activision-Blizzard will try and separate the titles in terms of content overall, but fans of the franchise will definitely be around to find out.
#18 The Alters
Developer: 11 Bit Studios
Release date: TBA
Publisher: 11 Bit Studios
Platform: Microsoft Windows
11 Bit Studios rarely miss. The team known for Frostpunk, and This War Of Mine is taking on a sci-fi setting this time with The Alters, and the survival game is capturing hearts and minds already. The Alters, (not clones), are alternate versions of the same person, and it's your job to nurture each alter, and their unique abilities, to help keep life going, lest it all going horribly, horribly wrong.
#17 Kerbal Space Program 2
Developer: Intercept Games
Publisher: Private Division
Platforms: PlayStation 5, PlayStation 4, Xbox One, Xbox Series X/S, Microsoft Windows
Release date: 2023
The original Kerbal Space Program went from an "odd title" to one of the most popular around for reasons only known to gamers. So naturally, Kerbal Space Program 2 will need to do its best to top the original, wouldn't you say?
Thankfully, the team is trying to do just that, as they've rebuilt the game from the ground up to make use of modern gaming technology, and expand what the game can do.
Don't get us wrong, the core is still there. You'll need to help the Kerbals make a successful space program, then colonize planets for resources and so on. But beyond that you'll find interstellar travel, be able to use all sorts of new technology to fly, and more.
#16 System Shock
Release date: TBA
Developer: Nightdive Studios
Platforms: PlayStation 4, Xbox One, macOS, Microsoft Windows, MORE
Publishers: Nightdive Studios, Prime Matter, Plaion
After quite a lengthy absence, Nightdive have brought System Shock's remake back up to the surface, and we'd be lying if we said anything other than "It's the coolest thing ever!" Combining modern visual styles with a low-res look in areas that respects the original in all the right ways, and shooting systems that again respect the past and embrace the present, and you've got a System Shock remake that is bound to capture the imagination of legions of new fans.
#15 Aliens Dark Descent
Developer: Tindalos Interactive
Publisher: Focus Entertainment
Platforms: PlayStation 4, PlayStation 5, Xbox One, Xbox Series X/S, Microsoft Windows
Release date: 2023
While the movie line for Aliens may be treading water, the video game line is still going strong in its own way, and 2023 will continue that with Aliens Dark Descent.
The game will focus on a group of Colonial Marines who are sent to Moon Lethe in order to defeat some Xenomorphs. But that's just the beginning of their problems, as there are not only aliens there, but terrifying monsters beyond them, as well as traitorous marines from another unit.
Unlike in previous games, you'll be controlling a full-on squad to take down threats, and you'll need to pick the best team possible and then upgrade them over time so you can handle all these challenges, and make it off the moon alive.
#14 Avatar: Frontiers of Pandora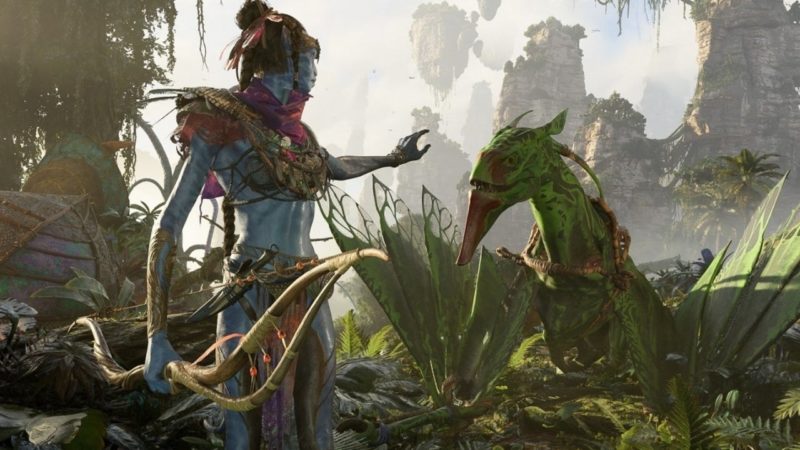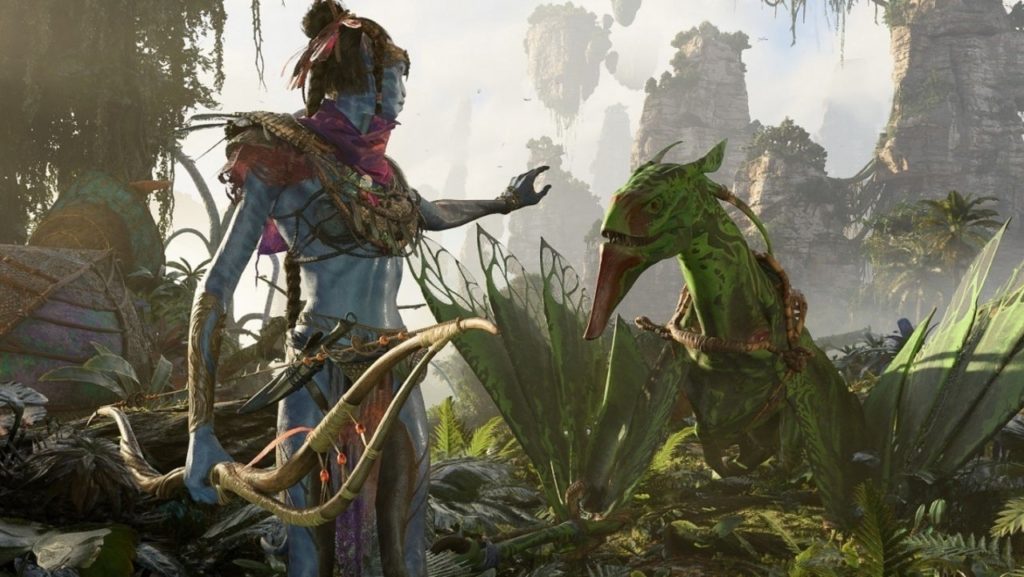 Developer: Massive Entertainment
Publisher: Ubisoft
Platforms: PC, PS5, X/S
Release: 2023
Say what you will about the Avatar movie and the franchise that is FINALLY growing from it (and trust us, we know some of you have a lot to say), but you can't deny that James Cameron "did it again" by making a world and creation that had a lot of imagination put into it.
Avatar Frontiers of Pandora is going to be an extension of that and the movie in the best of ways. Because in the game you'll be playing as your own Na'Vi, and explore the western continent of Pandora, a place we've never seen yet. You'll be tasked with various things on your adventure, so be sure to "see" all you can in the game.
#13 The Invincible
Developer: Starward Industries, Stardward Industries
Publisher: Starward Industries, 11 Bit Studios
Platforms: PC, X/S, PS5
Release: 2023
The Invincible is a very unique title in the sci-fi genre. Because it's a mix of adventure, mystery, and arguably, ethics. You see, in the title, you are a famous astrobiologist, who is sent to the planet known as Regis III in order to help research things for Earth.
But soon after you arrive, your crewmates go missing. Now, you must find them, and as you search for them, you realize that Regis III is so much different than you realized, and every choice you make might be the different between life and death, as well as ignorance and discovery.
There are a lot of layers to The Invincible, how you play it will determine all the levels you see.
#12 Star Wars: Knights of the old Republic Remake
Developer: Aspyr
Publisher: Lucasfilm Games
Platforms: PC, PS5
Release: TBA
We should be a little concerned about the Star Wars: Knights Of The Old Republic remake, given the tumultuous development that we now know that it is going through. As the game changes hands we can only hope that under the watchful eye of Saber Interactive, that the remake ends up being worthy of the name, and a respectful take on the classic game that Bioware once developed.
#11 Pragmata
Developer: Capcom
Publisher: Capcom
Platforms: PlayStation 5, Xbox Series X/S, Microsoft Windows
Release date: 2023
Capcom has made a lot of unique IP over the years (even though they refuse to bring some of them back like Darkstalkers and Viewtiful Joe…), but some might argue that Pragmata is one of their most unique.
We say this because the teaser trailer for the game shows a lot of things that at present don't make sense. Including the fate of Earth as it looks as though it's both collapsed, and also surrounded by some kind of unique technology.
Furthermore, there is a strange girl in the trailer who is "protected" by someone in a spacesuit, and yet it's clear that the girl isn't quite human.
So what is the point of this game? We'll just have to wait for more information.
#10 Aftermath
Developer: One-O-One Games
Publisher: Meta Publishing
Platforms: PC
Release: TBA
You are Charlie Gray, and as a proud and successful astronaut, your world and life couldn't be any better…but life is such a fragile thing…
After a disastrous re-entry, Charlie started to spiral, until eventually she found herself in a world that wasn't her own, and is desperate to figure everything out, and to find the "only thing that matters" in Sammy.
You'll need to explore this very odd world in order to figure out what is going on, fight the monsters that roam this new land, and get items to help you along the way.
There's a deep mystery here, and it surrounds Charlie at every waking moment. Will you figure out what is going on?
#9 Exoprimal
Developer: Capcom
Publisher: Capcom
Platforms: PlayStation 4, PlayStation 5, Xbox One, Xbox Series X/S, Microsoft Windows
Release date: 2023
If that last title was "a bit too much" for you, we understand, so how about a game where you will get to shoot dinosaurs with sci-fi weaponry? Does that sound more your speed?
Good! Because in Exoprimal, that's exactly what you'll get to do! The world is being hit by random and seemingly unending waves of dinosaurs from the past. Your only hope is to don a special mech suit and make sure that they go extinct for real this time.
You can play Exoprimal with friends or take on the dinosaurs on your own. Either way, you have a job to do, and you really don't want to fail at this one.
#8 S.T.A.L.K.E.R. 2: Heart of Chornobyl
Developer: GSC Game World
Publisher: GSC Game World
Platforms: Xbox Series X/S, Microsoft Windows
Release date: 2023
Certain world events have kept S.T.A.L.K.E.R. 2: Heart of Chornobyl from coming out this year, and that's fine because that means by the time it arrives in 2023, it'll be truly ready to go.
In the game, you'll once again go into the exclusion zone of Chernobyl, but being as a second bomb went off near the area nearly two decades before, it's a much different place now than it was then.
You'll need to search the grounds, get materials, and most importantly, stay away from foes. Not the least of which are the horrifying mutants that you will see from time to time.
Do you think you can survive what this place has become?
#7 Final Fantasy VII Rebirth
Developer: Square Enix
Publisher: Square Enix
Platforms: PS5
Release date: TBA
Final Fantasy fans likely need no introduction to the newest offerings from Square Enix. The second in a series of remakes centered around bringing Final Fantasy VII to the modern era of gaming. Picking up with Cloud and the party, players will venture out of Midgard into the wide world on a new… old adventure. Announced as part of the Final Fantasy VII 25th Anniversary Celebration, Final Fantasy VII Rebirth looks as if it will be a beautiful new entry into the franchise with wide-open detailed environments and engaging voice acting, as always there will be an enticing story to keep you coming back for more.
#6 Dead Space
Developer: Motive Studios
Publisher: Electronic Arts
Platforms: PlayStation 5, Xbox Series X/S, Microsoft Windows
Release date: January 27, 2023
"Wait, isn't that game one that's been out for a while now?" Correct, if we were talking about the OG Dead Space, it would've been out for years now, but we're talking about the remake of the original game that is set for next year.
In it, you'll once again play as the engineer named Isaac as he travels into space to find his partner, but instead finds himself taking on all sorts of dangers that no one could've predicted.
The original game was a horror genre masterpiece in the minds of many, so now imagine getting to play it on next-gen consoles.
#5 Robocop: Rogue City
Developer: Teyon
Publisher: Nacon
Platforms: PlayStation 4, PlayStation 5m Xbox One, Xbox Series X/S, Microsoft Windows
Release date: June 2023
Robocop has been in more games than you likely think, including being in the recent Mortal Kombat title (where he could square off with the Terminator!)
But he hasn't been in his own unique title for some time, which makes Robocop: Rogue City so special. This game will indeed let you play as Alex Murphy during his time in Detroit, and your prime directives are as clear as day: protect the innocent and uphold the law.
Doing so won't be easy as a menagerie of enemies will be coming after you. So you'll need to use your weaponry as best you can in order to fight crime, and to not become as corrupt as those seeking to undo you.
#4 Horizon Call of the Mountain
Developer: Firesprite, Guerrilla Games
Publisher: Sony Interactive Entertainment
Platforms: PlayStation 5
Release date: 2023 PSVR2
Without a doubt, the Horizon franchise is one of the best new franchises of the last several years, and now, it's going to be heading to VR via Horizon Call of the Mountain. In this game you won't be playing as Aloy though, you'll be an entirely new character in a new area to explore. Though Aloy and other faces will show up from time to time.
This game was built for the PS VR, and that means you'll have beautiful graphics to truly make you feel like you're there, and increase the tension when it comes to the battles you'll have to face.
So in other words, make sure you have a wide area to move in wherever you play this.
#3 Star Wars Jedi: Survivor
Developer: Respawn Entertainment
Publisher: Electronic Arts
Platforms: PlayStation 5, Xbox Series X/S, Microsoft Windows
Release date: 2023
The Fallen Order Star Wars game was a hit in many ways (not that EA seems to realize this with certain tweets that they have made…), and it was inevitable that it would get a sequel. Star Wars Jedi: Survivor was announced not too long ago, and it revealed that Cal Kestis will indeed be back, but there will be some new twists here.
Not the least of which is that apparently he lost his lightsaber to the Inquisitors, and, he'll be seeking help from an unidentified person in a bancta tank.
What improvements will the game make on the original? How will the story connect to others in the Star Wars line? You'll have to wait until next year to find out.
#2 Suicide Squad: Kill The Justice League
Developer: Rocksteady Studios
Publisher: Warner Bros. Interactive Entertainment
Platforms: PlayStation 5, Xbox Series X/S, Microsoft Windows
Release date: Spring 2023
What? We're on a superhero kick right now, so yeah, we put Suicide Squad: Kill The Justice League towards the top spot. Plus, there's a character named King Shark, what's more sci-fi than that? Don't say lightsabers…
Anyway, in this title, the evil Starro has descended from the stars and is trying to take over the world via the Justice League (who are under its control). As a result, the "greatest heroes" we have left to try and stop them are…the Suicide Squad. Yep, this couldn't possibly go wrong.
Harley Quinn, Captain Boomerang, King Shark and Deadshot will each be playable to you, and you can even bring in friends to co-op the squad to get the job done!
…or die trying…
#1 Starfield
Developer: Bethesda Game Studios
Publisher: Bethesda Softworks
Platforms: Xbox Series X/S, Microsoft Windows
Release date: Q1/Q2 2023
In truth, Starfield just oozes the fact that "it's a sci-fi game", mainly because you're literally going into space to go and explore the universe in certain ways, you have robot companions, and so on.
You play as someone who is part of a team that is set to explore the stars farther than humanity has reached in its many years of space. Trying to find special artifacts that might just advance humanity even more.
You'll get to create your own character and then reach out to the stars to see what they offer. You'll apparently have "unparalleled freedom", meaning you can have an infinite amount of adventures depending on how you play it, then replay it.
Disclaimer: This article was updated on 9/1/22 with new entries.