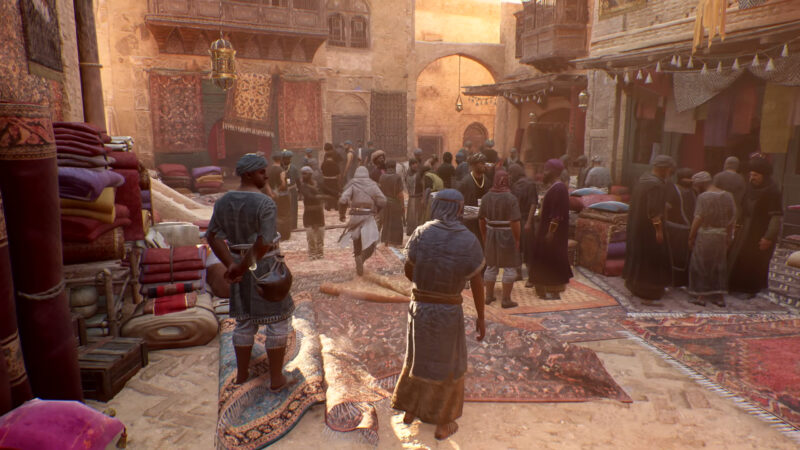 Update:
Ubisoft has since confirmed that this installment will include microtransactions but based around cosmetics.
Original Story…
I'm sure you expected it, but Assassin's Creed Mirage will come with microtransactions. That seems to be on par with other video games released by Ubisoft, so most of us probably already had assumed microtransactions would be featured. But today, we're discovering that the first microtransaction for the next major Assassin's Creed game was leaked online. It doesn't give us too much insight into what this in-game purchase offers, but it's at least a small window into what type of content we can expect.
The leak surfaced online through Twitter early this morning. After a user on Twitter shared a rating for Germany that stated players could make upgrades such as disabling advertising. When they asked others online about what this could mean, another user chimed into state that this is something that is put into video game ratings as a placeholder for microtransactions. But fortunately, we got one more tweet from user xj0nathan highlighting the type of microtransaction we could expect when this game does launch. This follow-up tweet showcased the Fire Demon Pack.
This looks to be some cosmetics you can purchase for the game, but it doesn't offer much more insight than that. So, for the most part, we are likely just to get cosmetic microtransactions for the upcoming game. With Assassin's Creed Mirage being a single-player title, the microtransactions shouldn't be too much of a problem for players. Now if it was an online-focused experience, then some players might have had an issue with certain cosmetics breaking the immersion experience.
If you haven't been paying too much attention to this particular installment, you'll find Assassin's Creed Mirage takes place before the events of Assassin's Creed Valhalla. Likewise, we know that this installment will be far shorter than Assassin's Creed Valhalla. We're following protagonist Basim Ibn Ishaq who goes from being a common street thief in 9th-century Baghdad to becoming a member of the Assassin Brotherhood. Meanwhile, if you are keen on taking in-game screenshots, then you're in luck, as this installment will have a photo mode available. Currently, Ubisoft is releasing this game on October 12, 2023. When the title does release into the marketplace, you'll find it available for the PlayStation 4, PlayStation 5, Xbox One, Xbox Series X/S, and PC platforms. You can also view a game trailer for the upcoming title within the video we have embedded below.